No wedding gifts, please: William and Kate request charity donations instead
News from USA Today:
The royal wedding day has finally arrived. Congrats to the lovely bride and groom!
Did you forget to get your gift in the mail? No worries. As reported here last month (via Reuters), Prince William and Kate (or Catherine, as she now prefers) have set up the Prince William and Miss Catherine Middleton Charitable Gift Fund, asking well-wishers to donate money to charities they care about instead of gifts.
The couple selected five causes — Changing Lives Through Arts and Sport; Children Fulfilling Their Potential; Help and Care at Home; Support for Service Personnel and Their Families; and Conservation for Future Generations — and 26 charities that fall into one of these categories t…………… continues on USA Today
Related News:
---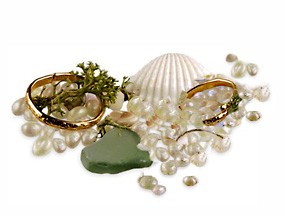 These elegant ivory potpourri beads are infused with a refreshing sea breeze fragrance and comes mixed with assorted mini seashells and wedding rings. Optional wedding or bridal shower theme confetti is also available. Sold per pound.
List Price:
Price: 29.95