Image by Shutterstock.com
News from In Arkansas:
Image by Shutterstock.com
Last week, you saw our staff's answers to what their best wedding gifts were. This week, the ladies are telling all on the worst gifts they received for their weddings. To save some embarassment for the gift givers, we asked them not to reveal who gave them such, um, lovely presents. Here's what they had to say…
Lindsay Irvin, Editor, Arkansas Bride - "Honesty, I can't think of ANYTHING! I even liked the stuff I got that wasn't on our registry, including a tropical colored, glass-blown plate with kissing fish and our names and wedding date on it. While it isn't our style and there is nowhere to put it, it's cute and was handmade just for us. It's something sentimental from our relatives who live in the Virgin Islands."
Michelle Foshee, Account Executive, Arkansas Bride - "Wood candlesticks."
Brandy Hubener, Account Executive, Arkansas Bride - "A pewter bunny platter."
Betsy Tilley, Senior Account Executive, Arkansas Bride - "Candlesticks with garage sale price tags still on them."
Deborah Edwards, Acc…………… continues on In Arkansas
Related News:
New Zealand's Leading Florist Goes Wild in Queenstown
News from Seattle Post Intelligencer:
Auckland-based gift store and flower delivery company, Wild Poppies, has bought Renaissance Florist in Queenstown, combining the famous Wild Poppies offering with Renaissance's local ties.
(PRWEB) May 31, 2012
Wild Poppies co-owner, Kerry Bradburn, says of the expansion, "I've always had a love affair with Queenstown. It's one of the most stunning parts of the world, and Wild Poppies has always taken inspiration from the alpine scenery, especially in our wedding arrangements. We're looking forward to becoming a bigger part of the community."
Wild Poppies isn't completely new to the region. They've been working with Renaissance as a [Queenstown florist for the past six years, developing a broad range of gifts for the New Zealand market. "The relationship grew to the point where it made sense for Wild Poppies to have a presence here," Bradburn continued. Their revamped location will carry a full range of delicious Petal Cupcakes, chocolate cakes and ever-popular Wild Poppies luxury combo gifts, while also continuing to offer signature floral designs.
Bradburn isn…………… continues on Seattle Post Intelligencer
---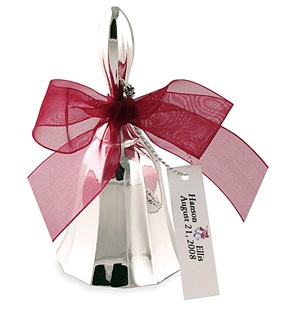 "Searching for the perfect way to get the Bride and Groom to kiss during the reception? Search no more! Forget banging silverware against the plates or shouting out. Now you can simply have your guests ring out these silver wedding bells instead, symbolizing the union of two individuals into one loving couple. These silver plated hand bells are an elegant decorative keepsake that can be displayed on a mantle or shelf for years to come. Each bell comes dressed in a lovely sheer organza ribbon bow, available in your choice of color. Personalize each silver wedding bell with a signature favor tag with the bride and groom's names and wedding date so your guests can always remember your special day. Tags available in 10 designs. bell size: 2″" W x 4″" H"
List Price:
Price: 2.79