Celebrity wedding yo-yo: Adele, Angelina Jolie, and Sofia Vergara make plans
News from Examiner.com:
Thursday morning celebrity wedding news is not to be. It seems that news of Angelina Jolie and Brad Pitt exchanging marriage vows this month, might have been a little optimistic. Headlines have proclaimed the upcoming marriage all month long. Wednesday headlines for Jolie-Pitt, Adele and other celebrities have wedding enthusiasts wondering if the weddings are on or
Related News:
Emily Maynard, Jef Holm already planning wedding?
News from Examiner.com:
Emily Maynard and Jef Holm have only been engaged for a couple of months but that doesn't mean that they aren't thinking about their wedding. The couple met on ABC's "The Bachelorette" and while the media has been trying to rip them apart, they seem to be looking in to the not-so-distant future. On August 29, Jef had an exchange on Twitter and mentioned his wedding to Emily—this certainly doesn't sound like a couple in trouble.
"[Emily] says you better bring those moves to our wedding," Jef tweeted to "Bachelorette" producer turned friend, Elan. Jef was referring to Elan's dance moves that he showcased at a wedding that Em and Jef attended a couple of weeks ago.
Emily Maynard and Jef Holm have said that they really do want to get married and that they are already thinking about their big day. Emily, of course, wants everything to be just perfect (she's a "girl to a fault") and that takes some planning. It does seem, however, that these two could be married before some of the other "Bachelor/ette" couples who are in line to tie the knot.
Ashley Hebert and J.P. Rosenbaum will likely be getting married next year. Ben Fla…………… continues on Examiner.com
---
The Knot Ultimate Wedding Planner: Worksheets, Checklists, Etiquette, Calendars, and Answers to Frequently Asked Questions
From the author of The Knot Complete Guide to Weddings in the Real World, a thoroughly modern, must-have workbook to help you pull…
The Knot Book of Wedding Lists
For the first time TheKnot.com's famous timelines, tools, and checklists have been compiled in one easy-to-carry book that will …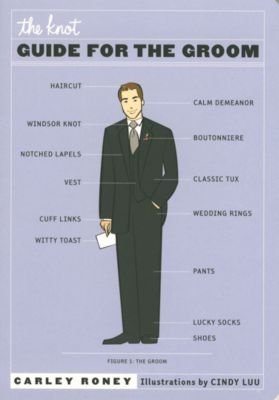 your guy's asked and asked what he can do to help — now he can put his money where his mouth is and dive into the planning! introducing the knot guide for the groom, a comprehensive compendium of the groom's traditional duties, from securing the marriage license and booking the honeymoon to tipping and, perhaps the most crucial of all, — understanding and supporting the bride! these 144 pages take guys step by step through their role, all in the knot's trademark lighthearted, tell-it-like-it-is voice. a great engagement gift!
List Price:
Price: 14.95